Import MSG to PST with Unmatched Easiness of MSG to PST Converter !
MSG to PST Converter is the very comprehensive and highly effective solution to import MSG files to PST that offers the significant conversion process which is easy to follow. The Import MSG to PST process is no more a quandary as the software carries simple and intuitive interface to proceeds the MSG to PST Conversion. As we know MS Outlook so you can find PST folder saved in it because Outlook stores all emails in .PST folder but if you drag and drop those emails into a separate location then you can view each emails as .MSG files.
Due to other reason like changes in working environment if you want to import .MSG (orphan Outlook messages) to PST (Office Outlook's default format), do you need to import .MSG to .PST in bulk?
Have a Look about How to Import MSG to PST?
» Firstly drag and drop all your email messages saved in Outlook account into a separate folder as shown in following figure.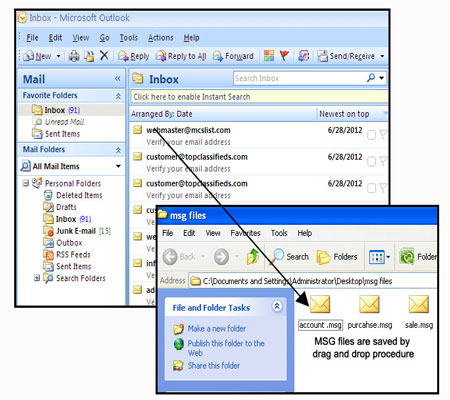 » After that install and run MSG to PST Converter on your local machine.
» Third step is the selection of MSG files by choosing Add MSG file(s)/Add Folder having MSG File(s). Software facilitates batch conversion by choosing "Add Folder having EML File(s)" tab. But if you have necessity to convert some chosen MSG files then you will select "Add MSG File(s)"tab.
» The most crucial and final step for conversion is to click on "Convert Messages" button. Now the process of import MSG into PST is no more complicated due to the launched of this powerful tool. The qualities, which make this better, are given below:

Smartly Imports All Details of Email: The software is designed with advanced techniques that lead the users to import all email details of MSG files into PST account without destroying single details of MSG files. So you would be easily able to import MSG to PST with all header information including to, cc, and bcc, sent & received date, attachments and embedded images & many more.

Selective Conversion is Possible: Software offers best procedure for select the MSG file needed to be imported so that the single MSG file or complete folder of MSG files (Batch Conversion) can be preferred for conversion by the user. Clear File(s) option is also available on software screen; in case you want to remove some wrong selection.

Save PST file at User-Specified Location: Users can save their converted MSG files into their specified location. As well as it does not harm original details and original formatting of emails through the conversion. Software keeps all items untouched.

Compatibility with all Windows OS: Software creates no installation problem and it has finer operability under Windows 8, Win 7, Vista, XP, 2003, 2002, 98 as well as deployed at large on any existing Outlook release (2000, 2002, 2003, 2007, 2010).